Here at 7 Day Dental, we have an excellent Orange County teeth whitening department. We like to tell each and every one of our patients that there is really no substitute for this professional cosmetic procedure.
Here's five big advantages of using this service.
It has Professional Ingredients
The system we use in our dental offices is professional. That includes the ingredients. Most of the products that you buy in stores only contains a small amount of the agent that whitens teeth. The product we use is available only to dental professionals.
It's a Comfortable Procedure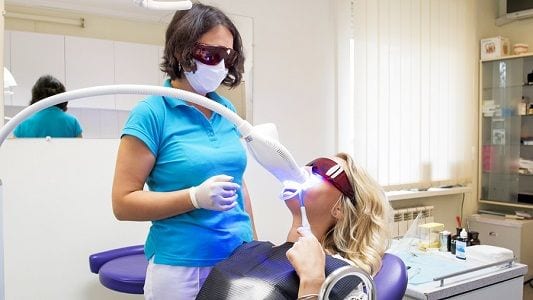 Some of the people who come to see us report that over-the-counter products have caused them some discomfort. We use professionally designed trays to make sure the whitening agent doesn't come in contact with your gums or lips.
What's more, we encourage our patients to let us know if they're uncomfortable at any time during the procedure so we can take a break.
You Can Select the Shade
One of the other big advantages to using our Orange County teeth whitening services is the fact that you can pick this strength of the treatment that you get with us. Our professionals are always more than happy to adjust the shade and the strength of the whitener to suit you.
7 Day Dental prides itself on being a family friendly dentist service in Orange County. To that end, we make sure that all the forms you need are conveniently located on our website. Beyond that, our cosmetic dentistry specialists are always available to answer any and all of your questions.
The Expert Touch
One of the other advantages to using our teeth whitening services is what we like to call the expert touch. We take the time to help you understand how your teeth get stained by examining them before the procedure.
Not only will your teeth be whiter when you leave, you'll be able to avoid some of the practices that can stain them. This kind of free consultation is just another way we form relationships with our patients.
It's Safe
Although teeth whitening is generally considered a safe procedure, some patients do report discomfort when they try it at home. For those people, coming in to see us is the safer route to take.
We have Orange County teeth whitening professionals that care about building a relationship with our patients.