An Anaheim implant dentist sees many Americans suffering from tooth loss every year. Most of the issues arise from periodontal disease, injury, and tooth decay.
Dental implants provide them with an alternative to dentures and bridgework. People usually have lots of questions about this type of procedure. Here are some of the more common answers to these FAQs. 
What Exactly are Dental Implants?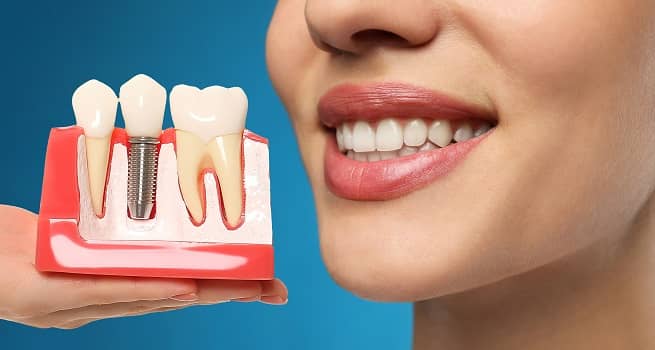 These aren't teeth. However, they are look-alike prostheses that are used for replacing missing molars. Dental implants are small titanium fixtures that get inserted into your jawbone. Some of the other appliances that can get attached to one of these implants include full or partial dentures. A single crown or fixed bridge can be added too. 
An Anaheim implant dentist can help you decide which accessories are right for you.
What are The Advantages?
Every human gets two sets of natural teeth. When you lose one permanent tooth or several due to gum disease or decay, you have the option of the third set.
Dental implants can quite often last for an entire lifetime. They can also improve your confidence and appearance. They allow you to take part in an active lifestyle and enjoy all of the foods that you love.
These implants never decay because they are made of titanium.
Are They Safe?
Implant technology is always advancing and the implants themselves have been used for many years. Today's products are highly sophisticated. What's more, they are put in place by trained dental professionals. Dental implants are safe and they are a reliable way to replace any missing molars.
What is The Success Rate?
The success rate depends on your habits and your oral health. However, an individual who has good health and an excellent oral hygiene routine can expect a positive rate above 95%. 
How Long Will The Procedure Take?
It's important to look at a few different factors to determine this timeline. Those include your overall dental health in which teeth need to be replaced.
Generally, the entire process takes anywhere from three to nine months. If you need time for an extraction to heal or bone grafts, that timeframe could be even longer.
Getting in touch with an Anaheim implant dentist today means you'll be on the road to enhancing your ability to eat the foods you enjoy. Not only that, your confidence and appearance will be improved.