Supplying professional services is one of the cornerstones of our Anaheim orthodontist practice. Research tells us there are over 4 million people under the care of one of these professionals in the United States and Canada. They can all expect to have a beautiful smile that lasts a lifetime.
Keep in mind that straighter teeth are the end goal of these professionals. Straight teeth mean less tooth decay. That's just one of the health advantages.  People who take advantage of our orthodontic services also have a boost in their self-esteem.
Here are a few facts to consider about this part of our professional dental services.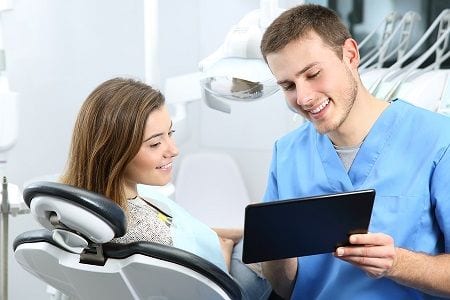 Orthodontics aligns the teeth and jaws and this can supply a huge boost to a person's self-image. However, there's more to this specialized service than cosmetics. Orthodontic problems can lead to a variety of other issues like chewing and digestive problems.
Years ago, people thought that braces were just for children. However, that's not the case at all because the basic concepts in moving teeth around is the same regardless of your age. Long story short is adults are using orthodontics to improve their image and straighten their teeth.
Although there are a variety of opinions, our Anaheim orthodontist services think we should see your child starting around seven years old. That's the best age to head off any potential issues before they become large.
We are committed to looking after your dental health at every age. For us here at 7 Day Dental, that's what makes orthodontics so exciting. We have the ability and expertise to treat both young and old and give them the smiles they are looking for.
Convenience is one of the other factors that separates us from other dental practices. We have put all the information that you need on our website. There is no need to wonder what you'll need to do to make a first appointment with us.
Keep in mind that we offer a variety of outstanding services that complement our orthodontists. For example, our emergency dental department is open 365 days a year. It's another service that's specifically geared for everyone in your family.
Keep in mind that many problems associated with orthodontics are easier to correct in your child as their teeth grow. Getting the right kind of treatment early on may help them to avoid more complicated procedures later like surgery.
Our Anaheim orthodontist can answer any and all of your questions.