We want every member of your family to feel comfortable coming to us. That's why we always look forward to seeing your children and establishing a good routine with our Anaheim pediatric dentist. Our dental hygienists and oral hygiene specialists can teach them how to floss and brush properly.
What's more, we have the advanced techniques to be able to find any dental problems before they become bigger issues. It's critical to establish regular dental visits at this early stage. Not only will we be able to find any problems quickly, we can establish trust with your child that can grow through their lifetime.
Accepted Dental Plans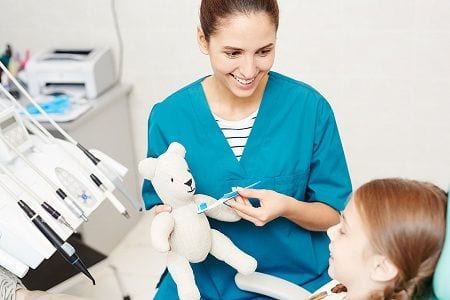 It's important to us that each and every one of our patients has a wonderful experience at 7 Day Dental. That's why we make things as convenient and easy as possible for you. If you take a look on our website you'll see the accepted dental plans clearly listed.
It's just part of the services our professionals offer. Why not get in touch with us today?
Parents often ask when is the best time to bring their baby in for that all important first check up.  Here at 7 Day Dental, our Anaheim pediatric dentist likes to suggest you bring your son or daughter in just after their first birthday or when ever a first tooth appears.
Childhood Problems
That's when our dentist will take a look for some childhood problems like early cavities and the negative effects of thumb sucking. We take your child's oral development very seriously here at 7 Day Dental. It is important to form a lasting relationship with them that starts from the time they are small.
Every mother and father think that their child is cute when they are an infant, but our pediatric dentist services tell them to wait until their teeth start to come in! Baby's first set of teeth are already in their jaws at birth and start to make a first appearance at around six months of age.
Sore Teeth and Gums
Your little one will generally have their first set of teeth by about three years old. When the process starts, babies may feel a little discomfort and have sore teeth and gums. That's where mothers can get involved by gently rubbing their gums with a wet gauze. Dad can use a clean finger for the same purpose.
Parents can also buy a teething ring for their child at this stage. However, if the fussing and crying persists, you should bring them in to see us.
Here's an interesting Anaheim pediatric dentist fact that many people might not be aware of. Baby teeth are much more than just placeholders for a more permanent set. They help your baby learn how to smile and chew. It's important that your child doesn't lose a baby tooth too early or adult teeth can come in crooked as a result.