If you ask our Anaheim pediatric dentist specialists, they will tell you that it's never too early to start practicing children's oral hygiene. Keep in mind that from the moment your child's teeth first make an appearance, they are susceptible to tooth decay.
Those Primary Teeth
Mom and Dad need to be responsible for the child's primary teeth. Check to make sure that there are no stains on them because healthy primary teeth are always completely white. If your child's teeth have any kinds of stains on them at an early age, you'll need to come in and see us right away.
Cleaning Those Early Teeth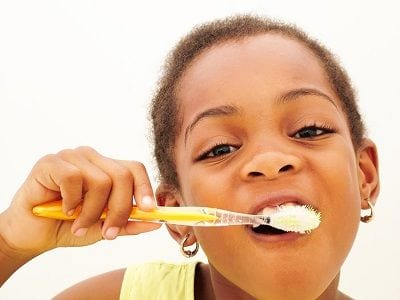 From the time your baby is born until they are around 12 months of age, you should be able to wipe their gums with a finger or moist cloth. After the teeth start to appear, you can clean them with water and a baby toothbrush. Fluoridated toothpaste might be an option as they get older, but you should check with our Anaheim pediatric dentist first.
Flossing
When your son or daughter is about 2 ½ years of age, they will probably have two teeth that are touching. That's the best time to start flossing between them. Here's an interesting point to keep in mind, most children can brush by themselves by the age of six but will have trouble with dental floss until they are around 10 years old.
Still, there's no need for parents to worry too much. The tool that will help your children get used to flossing is a floss holder. As your children get more comfortable with dental floss, you can cut a piece off about 10 inches long which will allow them to make a loop between their forefinger and thumb.
That First Visit
New parents are always asking us when they should bring their child to a dentist for the first time. The answer is quite simple. Your son or daughter should come and see us by their first birthday.
7 Day Dental is a family-friendly dental practice that has everything you need. We pride ourselves on looking after each and every member of your family through every stage of their dental hygiene.
If you're looking for a dentist for your son or daughter, getting in touch with our offices is the first step to a lasting relationship. Our Anaheim pediatric dentist services are industry-leading.