It's critical that parents understand what Anaheim Pediatric Dentist services can do for them. We know how important it is to work with parents so that we can pinpoint a good oral hygiene routine for their children.
Here's a good idea to start the process. Dentists recommend brushing for up to two minutes, but we advise parents should teach children to work up to that. It's also good to keep in mind that brushing an adult's teeth is quite different from brushing your children's.
First Tooth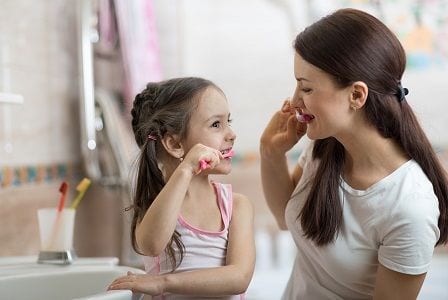 We recommend you start cleaning your children's teeth as soon as the first tooth makes an appearance.   Notice how we didn't use the word brushing? That's because most dentists feel that brushing is too harsh for a child that's only 6 to 12 months old.
Using moist gauze is the best way to clean those emerging teeth when they first make an appearance.
Toothpaste
A small amount of toothpaste is okay even before your child is three years old. Here at 7 Day Dental, we are always available to help your children establish good oral hygiene routines. One of the other helpful bits of advice we can share is on how to prevent cavities at an early age.
More Anaheim Pediatric Dentist Tips
Parents don't always understand that tooth decay can be an issue at any age. In the United States alone, research tells us that it affects 42% of children between the ages of two and 11 years. It's important to establish regular dental checkups as early as possible. Our professionals can help parents adjust their children's menus and flossing and brushing habits.
From the research that we've done, it's obvious that tooth decay has two factors behind it. Both diet and hygiene play a role. It's important to steer your child away from the kind of sugar filled drinks and sweets that are popular.
Cavities will follow if your child doesn't brush their teeth at least twice a day, regardless of what they eat.
Prevent Cavities
One of the best things that mom and dad can do to prevent their children from getting cavities is establish regular visits with our dentists. If you take a look on our website, you'll see all the forms you need to get things started.
Preventing tooth decay is one of our priorities. Establishing a long-term relationship with you and your children is important to that goal. Get in touch with our Anaheim pediatric dentist today.