There are some very clear advantages to Orange County Invisalign treatments. For many patients, braces can be painful. Other people come to us and tell us they have lost their retainers. When we heard all the different stories, we decided to put together a list of the benefits of these Invisalign options.
The Treatment Time Is Shorter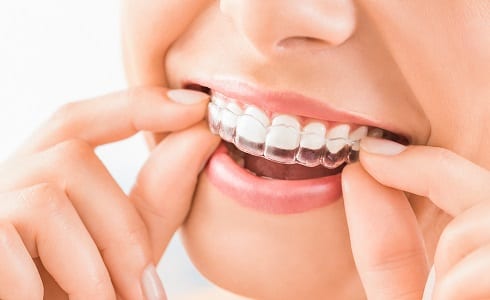 Some of the other treatments available can also require many trips to the orthodontist. With Invisalign, you don't need to check in quite as often. In fact, it's not uncommon for patients to come and see us just once every month.
When we set you up with this innovative technique, we'll give you all the instructions and information you need to know. These are a great way to straighten your teeth and still have lots of time to enjoy your daily routines.
Eating Isn't An Issue
One of the other advantages to this marvel is the fact you can take out these braces before you eat a meal. That means you don't need to give up any of your favorite foods. However, we like to throw one cautionary note in here.
Just because you can remove your Invisalign braces before you eat, doesn't mean you should eat everything in sight. Too many sweets and some hard foods can damage your gums and teeth regardless of the braces you're wearing.
They're Proactive
Another bonus to this particular treatment is its proactive approach. If you have misaligned teeth, it's a good idea to correct this situation when you're young. If you wait until you're older, the process to set the issue straight might be a little more complicated.
For example, some people we've talked to consider veneers as a cosmetic dentistry alternative to Invisalign. That is until we point out the  fact that veneers are excellent choices but in the end any imperfections in younger people should be fixed first.
Starting off on the proper path is the wise choice here. That means taking advantage of what these invisible braces can do for you. It's important to remember that you need to leave these in 22 hours a day. There will be several different sets of aligners before everything is finished.
If you've got any questions, our experts are always available to answer your Orange County Invisalign treatment questions.