We want you to have outstanding information. When it comes to the best Laguna Woods Geriatric dentistry, we've taken the time to put together some valuable information. People over 60 have specific dental concerns. Here at 7 Day Dental we are proactive in meeting them.
Cavities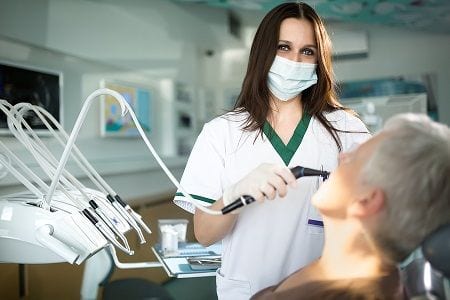 You may be surprised by the fact that you're getting cavities as you reach your golden years. There is really a simple explanation. Cavities start to form in older adults as a result of dry mouth. However, this condition isn't considered a natural part of getting older. Certain medications you might take for conditions like high blood pressure or allergies can cause this issue. That's one big reason why you should always tell us what kind of drugs you're taking.
Did you know there are certain foods and beverages that can make dry mouth worse? Acidic fruit juices might be good for your body but they can be bad for your teeth. The same goes for alcohol and coffee in excess.
Gum Disease
Older people often notice their gums are swollen and red. This is one of the red flags for gum disease and a situation we can help you with. Gingivitis and its more severe cousin periodontitis can sneak up on older people because the early stages are often painless.  Regular dental visits to the best Laguna Woods Geriatric dentistry professionals can help you avoid gum disease.
Cancer
The American Cancer Society reports there are 35,000 cases of oral cancer reported each year. The average age of the people who suffer from this disease is over 62 years old. As with other types of cancer, early detection can save lives. It's important to keep in mind the early stages of oral cancer are often painless. It's another good reason to come and see us at 7 Day Dental on a regular basis.
It's important to look for open sores or any changes on the inside of your mouth lasting for longer than two weeks.
Getting older doesn't necessarily mean your smile needs to change. With the right kind of proactive help from our dental experts, you can keep your original teeth in place well into your senior years.
Here at 7 Day Dental, we pride ourselves on the best Laguna Woods geriatric dentistry services.  All of the forms that you will need are online. We accept most dental insurance and our offices are always comfortable and friendly.