One of the interesting topics we like to broach with our older patients is the Orange County elderly dental care issues that crop up. As we get older, our teeth change right along with our bodies. That's why we've put together a few tips on the things you'll need to be looking for as you enter your golden years.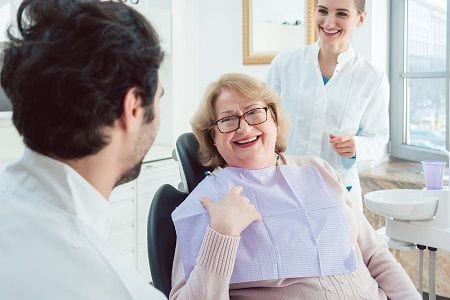 Older people get cavities. Although this may seem unusual, lots of senior folks start getting cavities again. They are often quite surprised when this happens, but there's a simple explanation. Many elderly people can trace their cavities to dry mouth, and this situation arises from 500 different medications older people take.
It's important to make sure your dentist understands all the medications you take so we can prescribe the right treatment plan to prevent dry mouth and cavities. There are a few things older people can do to help relieve their dry mouth symptoms. These include buying some over-the-counter products that act as saliva substitutes and usually do not require a prescription.
Other aids like sugar-free gum or hard candies that are also sugar-free actually help to produce saliva and can be quite effective at keeping your mouth moist.
Orange County Elderly Dental Care Tips
It's a good idea to stay away from some beverages that can cause your mouth to dry out like alcohol and coffee. One of the tips we suggest to our patients is that they carry a bottle of water with them wherever they go. By staying hydrated, you can combat dry mouth and lessen your chances of getting cavities.
Placing a humidifier in your bedroom is another good idea since it will help to keep the air moist while you sleep.
Regular Checkups
It's important to get regular dental checkups so that any issues can be rectified quickly. Our dentists are always on the cutting-edge of any new innovations when it comes to elderly people and their dental health.
If you take a look at our website, you'll find everything is placed conveniently where you can find it. All the necessary forms are on the front page so you can get to them quickly and easily. It's important that older people get checked for different kinds of periodontal disease on a regular basis.
We have the Orange County elderly dental care experts who can help.