Our Fullerton pediatric dentistry tips also include some suggestions for picture day. We know that parents and children both love and hate this special day at school. That's why we put together a few tips to make sure you can avoid any awkward moments that could ruin a lasting memory.
On the morning of the school picture, it's a good idea to be prepared after breakfast. That means sending your child to school with some floss. Even though they brush after every meal, accidents can happen. A piece of food caught in their teeth when the pictures taken can ruin an otherwise beautiful smile. Suggesting they floss time as a precaution just before the pictures are taken is a good idea.
Practice their smile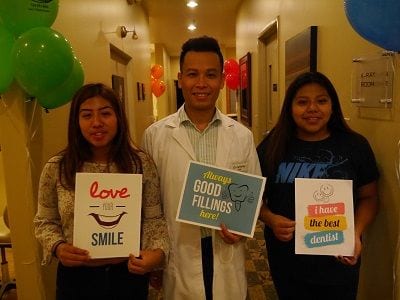 Considering the fact that children are self-conscious helps. Letting your child practice their smile in front of a mirror for a few days beforehand is a good idea. Making sure they use toothpaste with fluoride is another way of ensuring they have a great smile.
Backup outfits
It's always a good idea to give them a backup outfit to wear on picture day. Of course they will be careful but accidents happen. Some spilled food can ruin a picture and your lasting memories. A spare shirt and extra pair of pants in a knapsack might be just the thing. While you're packing that up, make sure that your child has an appointment with our Fullerton pediatric dentistry specialists. It's always a good practice to make sure they have regular dental checkups.
Here's another excellent tip for their outfit. If you make your child wear something they don't want to or feel uncomfortable in, the chances are they won't smile for the picture. It's best if mom and dad can spend a little extra time and pick out an outfit that everyone is happy with.
Dental hygiene techniques
The morning of your child's class pictures isn't the day for a quick haircut either. It's best not to change their appearance in any way so they feel comfortable.  It's always a good time to make sure you brush up on your dental hygiene techniques with your child. For example, teaching them to brush the outside of their teeth is a great habit they can use for a lifetime.
Angling the brush along the outer side of the gum line is a best practice here. By the way, we'd love to see your child's class pictures at our Fullerton pediatric dentistry practice.