Many people find the whole idea of getting Laguna Woods dentures overwhelming. It doesn't need to be that way at all. Millions of people wear dentures and live life to the fullest. Here's a few things to consider about these appliances.
First things first, you'll need to get fitted for your new dentures. Here's a few steps you'll likely go through.
Tooth Removal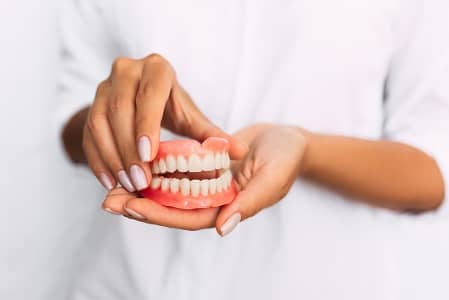 Step one is removing any damaged teeth to make way for your new dentures. Sometimes, we recommend waiting for several weeks after these extractions to let the swelling go down. Innovations have made immediate dentures possible. These can go in right after the teeth are extracted. 
Deciding on the right path for you means having a consultation with us beforehand.
Laguna Woods Dentures Impressions
Dental impressions are necessary to make sure the dentures fit your mouth perfectly. Basically, this is an imprint of your unique oral structures.
Whether you are getting full or partial dentures, these impressions create a model of the remaining teeth and soft tissues in your mouth. They are important because they conform to your unique shapes and contours.
We will pick a dental impression tray to fit your oral structures and mouth. The tray is filled with an impression material. This material is semi-solid at first. After we take the impression, it solidifies into a rubberlike substance.
The process is quick and painless. It generally takes anywhere from 30 seconds to just a few minutes.
Adapting to a new set of dentures can take several months. The reason is simple. Your tongue, mouth and facial muscles are getting used to them. It's not unusual to have several different appointments with our dentists over several weeks.
Of course, this varies depending on the individual. Still, we recommend regular dental visits even after you feel comfortable with your dentures. It's a good way for us to be able to check on them and make sure they are in good condition. At the same time, we can keep tabs on your oral health.
Different Adhesives
We can also help you sort through the different adhesives and cleansers on the market. These will help you to feel confident.
Getting your Laguna Woods dentures fitted by a professional means being able to make the most of life. We can help. Get in touch with us today and start on the journey to a better smile.