We've all heard the phrase about putting your best foot forward but you should always have the best smile in place too and that means looking into Laguna Woods dental crowns for your front teeth as well. Although there are a variety of different reasons where other teeth might be crowned for cosmetic purposes, usually when this procedure is done in the front it's all about restoring a natural looking smile.
Serious breaks and cracks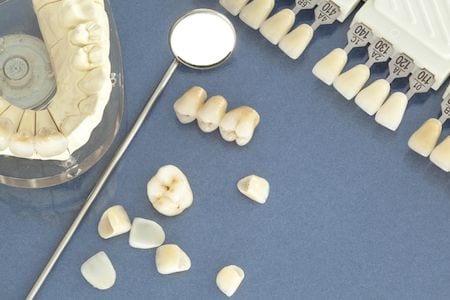 The most common reasons for a front tooth restoration are a serious break or crack, some kind of major decay or to protect another restoration procedure like a root canal. Like everything else we do here at 7 Day Dental, we've gone out of our way to make sure these crowns blend as naturally with your other teeth as possible.
Here's an interesting fact that you need to consider before you jump on board with front tooth dental crowns in Laguna Woods. Dental crowns are resistant to whitening procedures so it's a good idea if you have them matched up to your other teeth after your natural ones have gone through a whitening process. Because these crowns are matched to the rest of your teeth, if you have this part of the process done before the others are whitened, the crown might stick out.
All-inclusive dentistry practice
We pride ourselves on being an all-inclusive dentistry practice and that means we accept a variety of different kinds of insurances to better serve you. We are also very proud of the fact that our fees are competitive and our group practice philosophy means that you'll get the best possible care for every age group in your family.
You should also be considering the material that is used in the crown that you'll be getting. Porcelain is a favorite material because it blends in with your other teeth's natural enamel.
Caring For Laguna Woods Dental Crowns
Looking after the dental crowns that we put in place for you isn't that much different than looking after your other original teeth. It's important to keep up a regular routine that includes dental visits to make sure the crown hasn't been damaged or moved and you can brush and floss on a daily basis just like before. Keep in mind that a front tooth crown won't ruin your smile by sticking out.
Getting one of our Laguna Woods dental crowns means you might have to give up some other bad habits like chewing your nails or biting on pens. Both of those practices can actually damage your crown and it's even a good idea to give up some kinds of hard candy.