Dentistry has come a long way and there's no need for any of our Ladera Ranch oral surgery clients to feel pain during any of our procedures. Not only has anesthesia been developed for some more involved procedures like root canal, but modern techniques also help to calm the nerves of people who are a little anxious about visiting the dentist in the first place.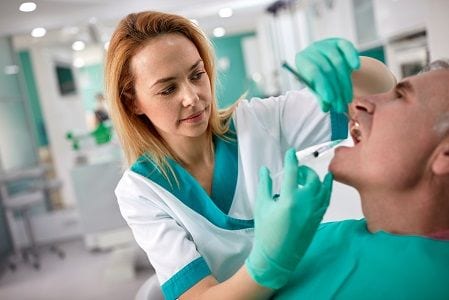 There are several kinds but the most common is a local anesthesia that dulls the pain around the area where our dentists work without putting the patient to sleep. There are times, like during a wisdom tooth extraction, when it's better for our clients to undergo general anesthesia where they go to sleep for a short time and wake up with the procedure finished.
If one of our dentists has suggested that local anesthesia is best for you, knowing about the procedure will help you to feel comfortable before hand. The dentist generally dries the part of your mouth where he will need to work using air or cotton balls first. After that, he will introduce a gel to numb the skin around the area before finally injecting the medicine into the gums.
Interesting Fact
Here's an interesting fact about our Ladera Ranch oral surgery procedure. The sting that most people feel isn't the needle entering your gums at all but rather the anesthetic numbing your tissue.
After the dentist works on your mouth, you can expect the effects from a local anesthetic to last for several hours. It is important that you try not to eat on the area that has had the work done because it will be numb for some time and it's possible you can damage the dental work that was accomplished.
Local Anesthesia
Although local anesthesia is considered one of the safest procedures and a great way to numb the area where the dentist needs to work, there are a few minor side effects that only happen occasionally like numbness spreading through your mouth that is only temporary. It is also possible that the medicine can cause one of your eyelids to slightly droop for a short period of time.
If you have any questions about our Ladera Ranch oral surgery procedures that include anesthesia or any other of the services we provide, we would be only too happy to answer them for you.