Our Laguna Woods cosmetic dentist professionals here at 7 Day Dental want you to have the most you can get from any dental experience you have with us. That's why one of the core values of our cosmetic dentistry practice is transparency. We want you to have all the information you need to make the choices that are right for you.
That includes understanding any helpful additions to a daily oral hygiene routine like mouthwash. Of course, this isn't designed to be a replacement for brushing and flossing. However, if you're considering any cosmetic dentistry procedures, understanding how mouthwash compliments them is good.
Why Bother Using It?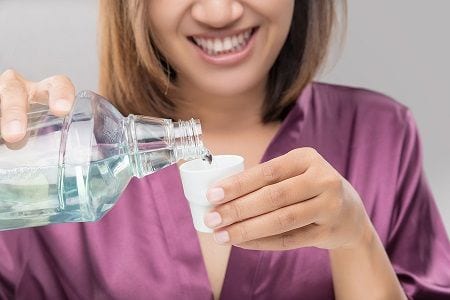 That's a question we get asked quite often. Mouthwash acts like water flossers and dental floss in that it gets in between teeth. It helps to reduce the risk of cavities and gum disease by getting to those places a toothbrush can't always reach.
Preventing tooth decay is another benefit of using the right mouthwash. It can also reduce plaque and the spread of tartar. Mouthwash is an excellent way to prevent gum disease. Gingivitis and periodontitis affect our ability to provide you with the best procedures from our Laguna Woods cosmetic dentist.
The Different Types
Like a lot of other dental products, there's a few choices when it comes to mouthwash. The ones that our 7 Day Dental practitioners recommend the most are therapeutic. These are the ones that contain the kind of ingredients that kill bacteria that cause gingivitis.
If you can find the ones that have fluoride, they have been proven to reduce tooth decay.
On the other side of the fence are cosmetic mouthwashes. These may control your bad breath but don't do very much to prevent gingivitis or fight off cavities.
It's a good idea to monitor your children's use of mouthwash. In fact, it's not recommended for use by children under the age of six because they might accidentally swallow large amounts.
If you have any questions about mouthwash or any of our dental procedures, we are only too happy to answer them for you. Our highest priority is making sure your family gets the kind of dental treatment they need. Our business is making sure that you and your loved ones have a beautiful smile that lasts a lifetime.
Getting in touch with us is easy. In fact, our Laguna Woods cosmetic dentist team is waiting to hear from you.