Here at 7 Day Dental, we are very proud of the fact that we treat even young children with our Laguna Woods orthodontist procedures. The techniques that we have mastered can begin as early as six or seven because your child's teeth are still developing at that age. The jaw is also growing so it's an excellent time to get on top of any crooked teeth or overbite issues.
Starting early means that any kind of issues like overcrowding can be easily addressed. This type of treatment is generally new to most young patients. So, we've put together some tips for the things you can do after your early orthodontic treatment.
Swish with water
It's important that your child learns to dislodge any food they have in their teeth before brushing. If they're wearing braces this becomes even more important. That's why you should tell your son or daughter to rinse thoroughly before they brush when they are wearing any kind of orthodontic hardware.
Floss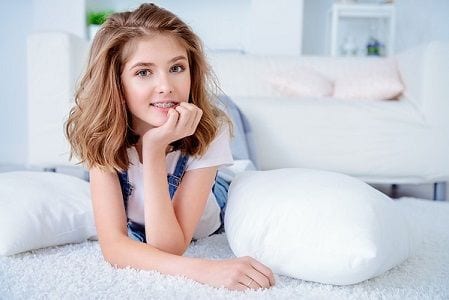 It is essential that you have your son or daughter floss each and every night. This is the best way to loosen up any remaining food that gets stuck under the gum line. If you don't help them floss at the end of each day, food debris can harden into what's called tartar. Flossing helps them to reach under the braces and into those difficult places that are hard to get too with a toothbrush.
Fluoride Rinse
The Laguna Woods orthodontist professionals that we have on staff are all highly trained. They make it their business to keep abreast of all the latest innovations in the orthodontic field. What's more, they actually love what they do and are comforting and friendly to your children on the first visit.
It's important your dentist understands your child's unique situation and can make appropriate suggestions. Using fluoride rinse is always a good idea and one that we strongly recommend. These suggestions are designed to help keep your child's teeth strong and healthy.
Regular Checkups
Of course, it's important for your son or daughter to make sure to come in and see our dentists once every six months. It's a good oral hygiene routine to get into. It also helps to head off any serious problems before they become both expensive and painful for your children.
Having any kind of braces makes it more difficult to keep your teeth clean. The Laguna Woods orthodontist professionals that we have on staff can help you with some excellent suggestions.