It's important to us at our Orange County child orthodontics practice to make sure you get the information you need. We like to tell all of our patients that living with braces means you will need to take an extra amount of care when it comes to your oral hygiene.
For children, braces can be awkward and even uncomfortable at first. That's why we decided to put together some tips for braces that can make the whole situation easier to live with.
Taking Oral Hygiene on The Road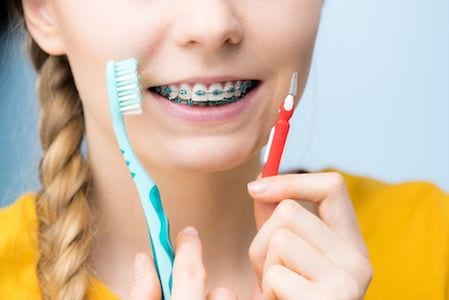 It's a good idea to put together a travel kit when you are going to be away from home with your child. It should contain all the essentials that you have at home including floss, a good toothbrush and some
toothpaste.
You need to stress to your child that even though they have braces and these tools will fix their teeth, a good oral hygiene routine is still critical. It doesn't need to be a family vacation where you stress the need for this kind of oral hygiene.
For example, one of these dental kits for children on the road is great for a school locker or even a day trip away with classmates.
Cleaning Time
Our Orange County child orthodontics team stresses how important it is to teach your child how to look after their teeth and gums. This is critical before they get braces and becomes even more important once they start wearing any kind of aligners.
Remember, here at 7 Day Dental we are committed to your family's overall health. That's why we have a variety of different services that are affordable and efficient. Our front office staff is always helpful and courteous. Our dental practitioners continually keep up their skill sets by implementing the latest technologies.
Loose Brackets
Keep in mind, from time to time you might need to deal with loose wires or brackets with your child's braces. That's always the best time to come and see us because we can fix any situation quickly and professionally.
It's important to understand what to expect when your child gets braces. It's not uncommon for teeth to be loosened as they are aligned and this is no reason to panic.
It's also a good idea to have a conversation with us about your child's activity level. If they play sports, you should come and have a chat with our Orange County child orthodontics experts.