We like to think that we are helpful when it comes to everything you need as per Orange County implant dentistry. Dental implants are surgically implanted below the gum line and generally made of titanium. With the proper maintenance, these can last a lifetime and they look exactly like your natural teeth.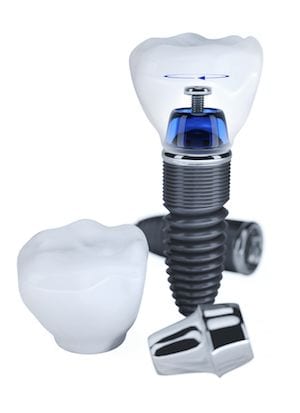 One of the biggest benefits is the fact that implants don't shift in your mouth. That makes it easier to eat can speak in a natural way. Some of the other procedures like dentures can shift at inopportune moments.
Another advantage to implants is the fact that they don't need any adjacent teeth to affix themselves to. Even a bridge needs at least two good teeth to attach to and stay stable. There are a few prerequisites to making sure that you are a good candidate for dental implants. These include:
Healthy gums. If you smoke, you should stop for several health reasons. However, when it comes to dental implants, quitting smoking can help stop a receding gum line. If your gums recede too much, you won't be a good candidate for dental implant procedures.
Adequate bone. Once again, nicotine and tobacco products can actually  disintegrate your jawbone. This makes it difficult for us to accomplish any Orange County dental implant surgery. Quite often people who smoke need to go through gum replacement therapy first.
Keep in mind that when you are looking for a beautiful smile that can last a lifetime, you should call us at 7 Day Dental. We are a family focused dental practice that has some of the best practitioners in the country. Each and every one of the people who works with us is highly trained.
Our primary goal is to give you the kind of high quality dental care you need at an affordable price. We employ the most advanced Orange County implant dentistry techniques in a caring and friendly atmosphere.
Remember when it comes to dental implants, you'll need to have an artificial tooth fitted over the posts. That means you'll need to adopt a regular routine of dental visits to make sure everything is in good order.
Of course you'll need to brush twice a day and floss at least once. Even though these dental implants are artificial, they require a maintenance routine like natural teeth. Get in touch with us today so we can go through your options.