Having a wonderful smile builds positive attitudes and a general sense of well-being. We've put together some Pedodontist Orange County tips to make sure that happens for your children.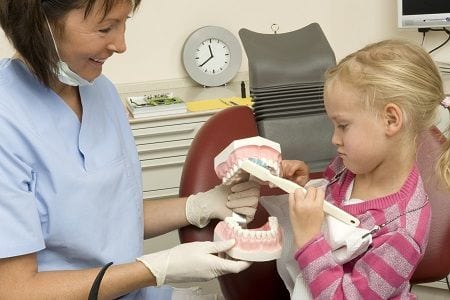 There are many benefits to having early dental checkups. Following are a few of the big ones.
The first is all about being able to have good oral health. From the very first time your children visit with our Pedodontist Orange County dentists, we stress the fact that every child needs to have a dental health routine that starts early. One of the fundamental aspects of this is a good attitude. We have found over the years that earlier a child starts to make regular dental visits, the better they feel about the dentist as they get older.
Pedodontist Orange County Advice For Pregnant Women
Here's another interesting tip that we found when we did some research. Women who are pregnant need to look after their oral health too. The women who come in and see us when they are expecting tend to bring their children afterwards. It's always been a family affair where we are concerned!
There are some specific goals to starting dental visits early. One of the most obvious is the ability to find any kind of problems early on. There's always the cost to. We found over the years that being able to treat any kind of problem early on makes sure that oral diseases get caught in the early stage. This is especially important for pregnant women because some of these can be transferred from mother to child unless mom gets the proper kind of dental care.
Quality Dental Care
Making sure that each and every member of your family gets quality dental care is what we do. Every one of the professionals that we have on staff is properly licensed and trained. What's more, they are committed to making sure each and every member of your family understands oral health completely.
The Pedodontist Orange County packages we have are informative and our facility is welcoming. It's all part of a comprehensive solution designed to get your child and your family members started off on the right foot when it comes to oral hygiene.
Beginning as early as possible is always a good idea. That's why if you have any questions for our Pedodontist Orange County professionals, we are only too happy to answer them.