In a nutshell, the Laguna Woods crowns we supply are a way to repair a damaged or discolored tooth. These are made from several different materials like porcelain or metal. Other types include gold crowns and those made from porcelain fused to metal.
The first step is making sure you really need one of these appliances. There are several reasons to get a crown including the need to replace a large filling or cover over an implant. They are even used to save a tooth after decay has set in.
Some patients have crowns fitted over natural teeth that are cracked or damaged. These are useful after other treatments like a root canal. Sometimes they are even used when a patient has a misaligned bite.
The durability and strength of the material, as well as the cost, are factors to consider when choosing a crown.
Choosing the Material for Laguna Woods Crowns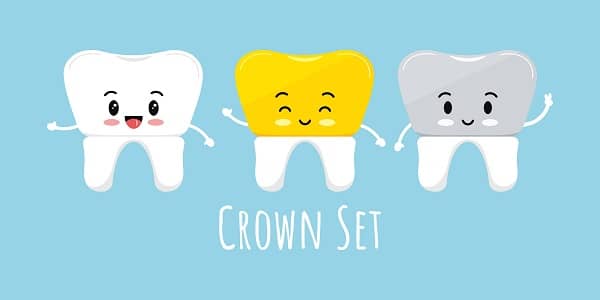 Picking the right material for your dental crown is an important aspect. We take into account several details including:
Location
Depending on where the tooth is located, we might need to do some work beforehand. For example, if one of your teeth is broken or severely damaged, our dentists will need to fill in the spot so it can receive a crown.
We often suggest crowns to cover teeth that have been severely worn down over time. As a result, these appliances are often found in the back molars.
Likewise, it's a good idea to get a crown when you damage a tooth that affects your smile. Having a great smile affects your self-confidence and mood. Your teeth are quite often the first thing someone notices about you.
Your Requirements 
Strength is another aspect to consider. For example, if you need to fix a tooth at the back of your mouth, a gold crown is a good option. These are durable and strong. What's more, they can last a long time when cared for properly.
With a gold crown, less of your natural tooth will need to be removed.
For teeth closer to the front of your mouth, the porcelain variety is a good choice. This form of crown can match your surrounding molars in color, shape and size. For this reason, they are considered one of the best options for Laguna Woods crowns on your front teeth.